Meet The Team
About D&G Machine Products
From concept to installation
From our facilities in Westbrook, we offer a complete range of services from product concept to installation and on-site maintenance. Our customers benefit greatly from this one-stop, turn-key, shopping experience, for it has been proven an efficient and cost reducing way of doing business.
Precision design
D&G employs highly trained engineers who use sophisticated CAD/CAM software to produce the best product concepts in the least amount of time.
Precision Engineering
D&G is a AS9100D, ISO-9001:2015 registered company. Industry standards are rigorously applied to all products as an integral part of the manufacturing process. D&G has a licensed professional engineer on staff. Click here for more.
Precision quality control
We are committed to customer satisfaction through employee involvement and continuous improvement. Our focus on quality ensures that products and services meet or exceed customer expectations.
D&G Machine Products is an AS9100D ISO 9001:2015 registered company. Quality control is most crucial during the manufacturing process and it is an embedded element in our corporate culture.
Precision installation
D&G has engineers and field service technicians skilled in reverse engineering, turnkey operations and installation assistance. Click here for more.
If you would like to be employed by us, please see our Job Opportunities listed at the bottom of the contact page. Thank you!
Our History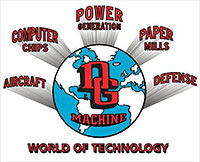 D&G Machine Products, Inc. is a privately held company.
Ron Denyer & David Gushee founded D&G in 1967 in a one-car garage behind Dave's house. They specialized in producing custom tooling for Power Generation equipment manufacturers located in and around Portland, Maine. As the small 2 man operation started to grow, the first actual shop was opened in a small shack, on the docks of the South Portland side of Portland Harbor. The startup cost of starting a new machining business forced Ron into turning over his ownership to focus more on his family, although he stayed on and led the company's engineering department as Chief for 20 years. Dave soon hooked Fred Loring into taking a small risk in assuming Ron's ownership. Dave and Fred became partners for 20 yrs, they combined fabrication and machining services which defined the foundation for the building years of D&G Machine Products first 20 years of its history.
By 1972 D&G had outgrown their original home on the docks of Portland Harbor, so a move of operations to a site around the corner on the South Portland waterfront facing Casco Bay made a perfect fit, as it was also closer to the GE Plant, D&G's number one customer at the time. This move inked D&G's trademark as truly a Maine manufacturing based company known to many as— "D&G by the Sea". In 1987 Fred Loring left the company applying his talents in the local food supply markets. Dave Gushee then joined a new partnership with four key company individuals, Chuck Tarling, Ken Pritchard, Steve Sullivan and Duane Gushee. The four would go on to build D&G Machine products into a National Manufacturing Power servicing all the major industries in America.. By 1993 they had outgrown the South Portland facility and then moved the company to its present facility in Westbrook, Maine. In 1996 Dave Gushee retired leaving full ownership of D&G to the four partners. By 1997, D&G had outgrown the 65,000 sq-ft Westbrook facility, and added 35,000 additional square feet. And then again, in 2005 D&G added an additional 55,000 sq-ft facility at 20 Hutchinson Drive Gorham, Maine — the new home of D&G Fabrication and Sheet Metal Manufacturing Facility.